Marisa Roberts, PTA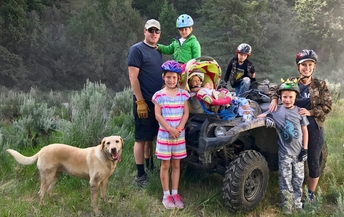 Marisa Ruth Roberts is a Physical Therapist Assistant at Eagle Rock Physical Therapy.  She is a mother to 5 beautiful children – Mariah, Isaac, William DeLoy, and Canyon Benjamin, and Bella Lorna.  She graduated with her PTA from Salt Lake Community College in 2001 and worked primarily in Home Health and outpatient rehabilitation.  She really enjoys getting to know her patients and finding out what they want and expect out of physical therapy and then she does all she can to meet those wants and needs.  She develops close, personal relationships so that there can be full confidence between practitioner and patient.  In that way Marisa can help them in their recovery with full knowledge of what is bothering them.  She then uses her vast knowledge of physical therapy to help patients return back to full health again without pain.
Marisa loves her family and she puts up with her husband's wild family activities that take them to all parts of Idaho, at all times of the year.  She enjoys traveling outside of Idaho and dragging her, at times, grumpy husband along.  She is one who is fun-loving and easy to laugh, and can put people at ease in her presence.
Right now Marisa does not spend a lot of time in the clinic working directly with patients.  She does a lot of behind-the-scenes book work stuff that the owner has no wish to participate in, other than to know it is done and taken care of.  When her children are older she plans on returning slowly back to patient care.